Amazon Connect Contact Center Fixed Fee options!
If you have an existing Amazon Connect Call Center, or if you are planning one,  Dextr has a solution to fit  your schedule and your budget.  We provide a range of design, deployment and support services to achieve you call center vision.   The full range of AWS services from Artificial Intelligence and BOTS to transcription, comprehension and voice analytics are all available to an Amazon Connect Call Center and Dextr can speed your time to "go live" while reducing your overall costs.
Customization and integration are Dextr core strengths.
We work with all published CRM integrations and will tackle custom intra-net integrations that bring your customer data to the Agent desktop.  All work is quoted on a "fixed project fee" basis:
1 – Amazon Connect Basic Configuration of 5 Customer Service Queues, 5 routing profiles and basic call tree (i.e IVR)  

Flat fee of $1995 – this includes setup of an Amazon Connect Instance in your portal, basic inbound routing, IVR call tree, Call Back from queue opiton, as we also include Dextr free trial (NOTE: your team has ownership for adding agents and assigning the agent to a routing profile that dictates which queues that agent is a member of.  We configure the first 10 agents and there is not limit to the number of agents you can add).
Voice Mail Option $500 – includes email of a WAV file and/or SMS delivery with Transcription option. – This options creates an opportunity to have callers enter an extension number to reach a specific team member.  If the team member is unavailable, the caller may leave a voice message or transfer to another team member.
Voice Mail Option with Speech Recognition & dial by name $500  – This provides the same voice mail options as above, but enables callers to speak the name of the agent.
SMS inbound request for Call Back $500 – Enables customers to send "call me" to your text number and be placed in queue for a call back when an agent becomes available.

2 – Amazon Connect Advanced Feature Creation for LEX BOTS!
3 – Amazon Connect CRM Integrations for other than Salesforce, FreshDesk, Zoho, ZenDesk, ServiceNow or internal data dips to your intranet based database.
4 – Basic outbound "Press 1 " auto dialer!
$1500 Feed your call center a list of phone numbers to dial and play recordings, prompt and collect customer input and transfer to customer service queues! Typical use cases include appointment reminders,  marketing campaign, polling, emergency announcements.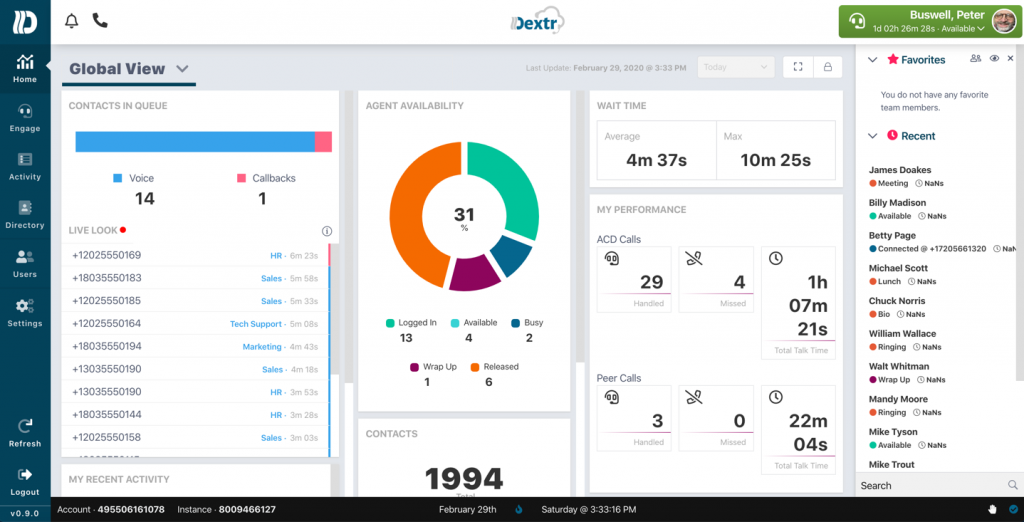 There are two reasons we can commit to these low prices for the design, deployment, test and turn up your Amazon Connect call center:
First, we deploy virtually. no travel involved.  All work is done remotely by very experienced Certified Amazon AWS developers, network engineers and VoIP experts.
Secondly,  the omni-channel features (i.e. text, chat, email and social media messaging) that most call center managers ask for are already developed in our Dextr portal.  This significantly reduces the hours that would otherwise be required to implement these features on an individual basis.  The Dextr agent dashboard below is bundled in our solution packages and there is no charge for first 14 days, then about $1 per day per agent for a full omni channel solution (voice, text, email and chat)
We provide training and ongoing technical support for all things AWS in general and Amazon Connect in particular.   Please give us a call at 800-946-6127 or email us at CustomerCare@Dextr.cloud we are eager to help you realize your call center vision!
Whether you're ready to take control of your call center spending, seeking to offer the most feature-rich package, or looking to supercharge your current call center solution, Dextr is poised and ready for the challenge – The best way to begin a conversation with us is by sending an email directly to
CustomerCare@Dextr.Cloud or Call 800-946-6127
(Dextr is available for trial or subscription through the Amazon Marketplace.)